CHEESY SKILLET BREAD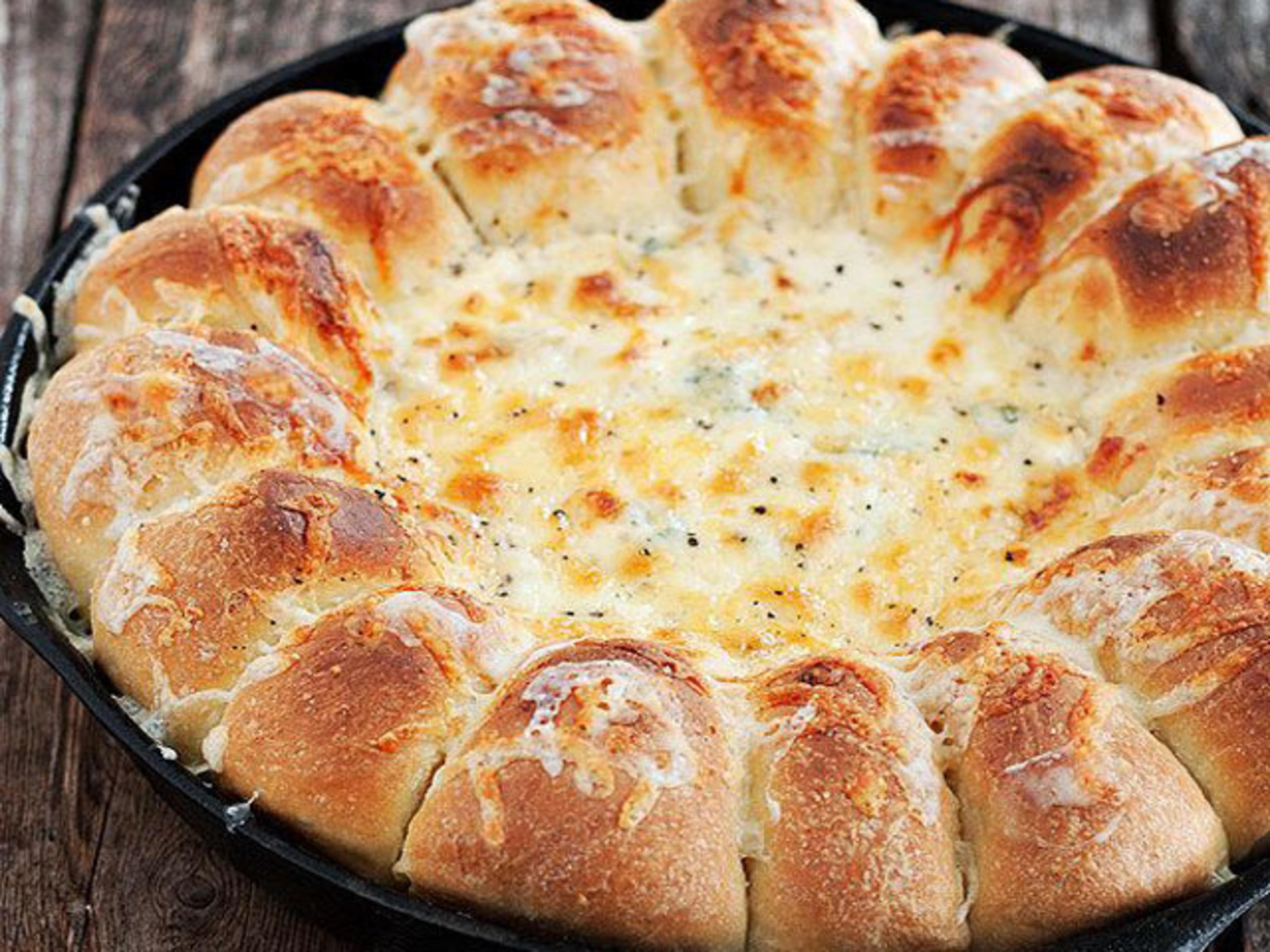 - 2 3/4 - 3 cups all-purpose flour
- 2 1/2 tsp. active dry or instant yeast
- 1 cup milk, warmed but not hot
- 2 Tbsp. vegetable oil or melted butter
- 4 cups loosely packed fresh baby spinach (or 1/2 of a 10 oz. package frozen spinach, thawed, drained)
- 170 ml jar of marinated artichoke hearts, drained and coarsely chopped (can also use regular canned artichokes, about 2/3 cup chopped)
- 4 oz. cream cheese, room temperature (1/2 a typical brick)
- 1/2 tsp. Sriracha sauce (or any "hot sauce" you like)
- 1/4 cup freshly grated Parmesan cheese
- 1/4 cup mozzarella, shredded + more for topping
1/4 cup mozzarella, shredded

Freshly ground pepper
For making bread dough:

Add two cups of the flour to a large bowl. Add salt and combine. Stir in yeast and let stand a few minutes. Add yeast mixture to bowl, along with the vegetable oil or melted butter. Mix and add additional flour in 1/4 cup increments until a smooth dough forms. Knead until smooth. Transfer dough to an oiled bowl. Cover with plastic wrap and let rise until doubled, about 1 hour.

Make Dip: Meanwhile, place fresh spinach in a bowl with 1 Tbsp. of water. Cover tightly with plastic wrap and microwave on high for 1 minute. Remove from microwave, leave covered and let stand 15 minutes to cool. Drain spinach well and add to a medium bowl.

Add remaining dip ingredients and mix until well combined. Cover and refrigerate until needed.

Cutting/shaping dough: Turn dough out onto a lightly floured cutting board. Using a sharp knife or bench scraper, cut the dough into 16 equal pieces. Shape each piece into a ball by pinching the edges together underneath.

Generously butter an 8-inch cast-iron skillet. Find a bowl that is about 5 1/2-inches across the top, spray the outside with cooking spray and place it, top side down, in the center of the skillet. (*If you can't find a bowl, take a sheet of tin foil and shape it into a tight circle about 5 1/2-inches around and 1 inch high and place it in the centre. Spray it with cooking spray.

Arrange dough balls around outside of the skillet, pushing together as needed until they all fit. Brush dough balls generously with melted butter. Cover the skillet with plastic wrap and let rise until puffy, about 30 minutes.

Pre-heat oven to 375° F. with rack in centre of oven. Remove bowl from centre of skillet. Spoon prepared dip into the centre, pushing it right up to the edge of the dough. Sprinkle top of dip with additional mozzarella/Parmesan. Bake in the pre-heated oven for about 30 minutes, until rolls are golden and sound hollow when tapped and the dip is bubbly.

Remove from oven. Sprinkle the rolls with additional mozzarella cheese and grill until browned.

Let skillet stand at least 5-10 minutes, or until just warm (not hot). Add freshly ground pepper on top. Serve with a dip "knife" and let everyone serve themselves.
*Recipe and pic courtesy of Seasons and Suppers