It's true that servicing your new Jayco Caravan is equally important as servicing your Tow Vehicle. Regular preventative maintenance is required to ensure safe travels when you hit the road.
Our range of specially designed Caravan Services are designed with safety in mind, ensuring trouble-free travels around Australia.
Brisbane Camperland is home to a specialised Caravan Service Centre. Our dedicated off-street caravan drop-off area makes access a breeze with your caravan in tow, and our dedicated factory trained technicians are on hand to ensure all of your caravan servicing requirements are met.
Hitting the road in your new Caravan or Motorhome

Taking your new Caravan or Motorhome away on its first excursion is an exciting time. Think of your RV as a small house on wheels. There is a settling process as you start to use your product on the road, and some Caravanner's refer to this as the shakedown. RV's are reasonably complex these days with many different systems and components. We recommend a couple of short shakedown trips to identify any items that we may need to inspect or adjust during your 1st or 2nd service. Simply make a note or photograph any concerns, and we'll be sure to take care of any items that you notify us of at 'time of booking'.
Jayco Australia have developed a great range of Caravan Services to ensure all safety and maintenance aspects are covered.
The Jayco Caravan Services we offer are:
Jayco 1,000km | 3 Month Service | Recommended after 3 months or 1,000km

Jayco 10,000km | 12 Month Service | Recommended after 12 months or 10,000km, then annually

Brakes & Bearings Service | Recommended Annually or every 10,000kms for Jayco's outside of the Warranty period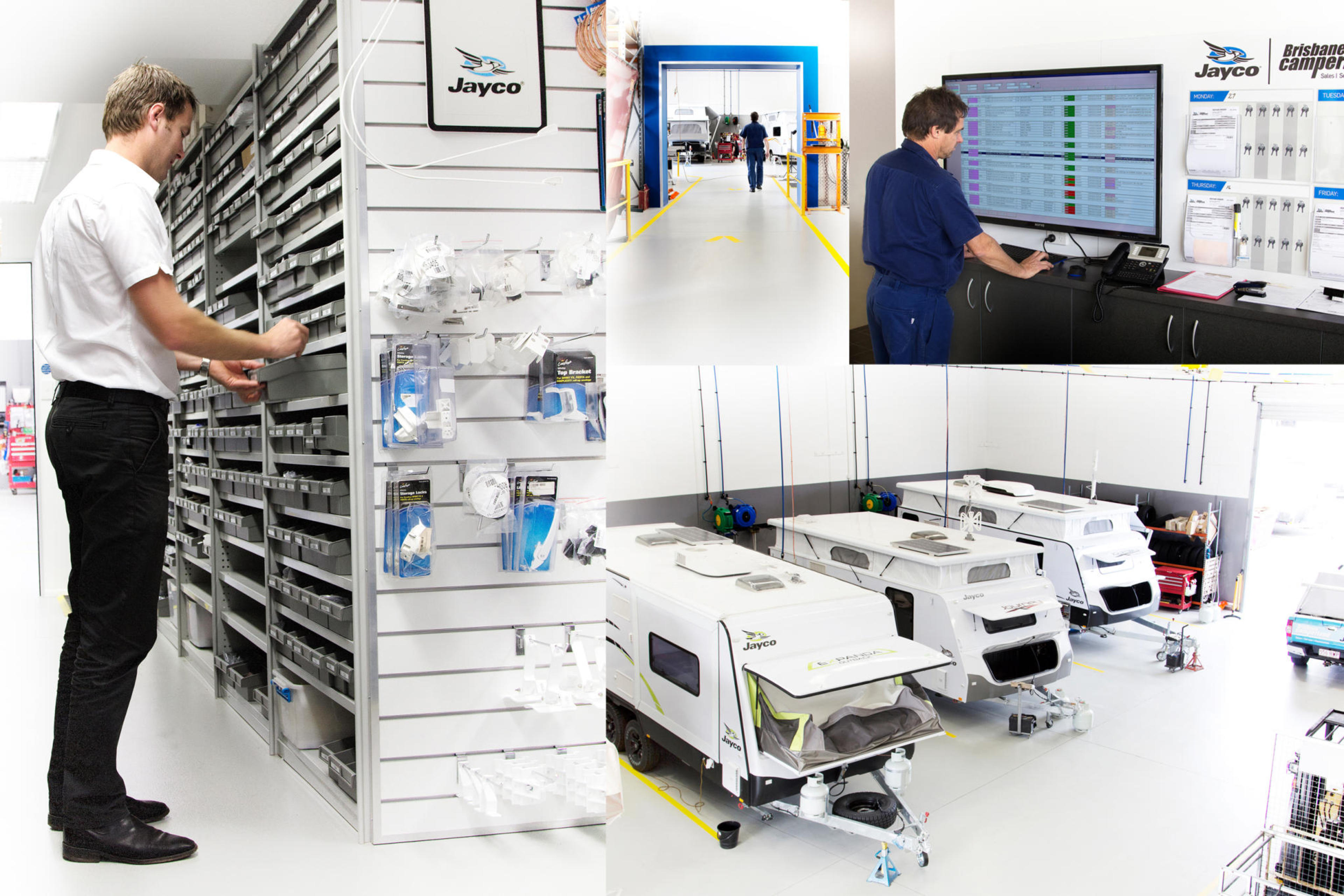 Every new Jayco RV comes with a 2 Years Manufacturing and 5 Year Structural Warranty, a promise that your Jayco RV is free from workmanship or material defects. The Warranty period commences from the date of purchase. Our RV Service Centre is equipped to take care of almost all Jayco Warranty repairs for our Brisbane Camperland customers.
Travelling customers: Whilst we'll make every effort to accomodate travelling customers, during peak periods we may need to recommend alternative service agents in the local area who'll be able to get you back on the road sooner.
We understand that your travel requirements often change, and from time to time you may wish to add additonal features, making life on the road more comfortable. Whether it's an additonal 12V Battery, a Pole tube or a 12V TV, we can take care of your needs.
Before phoning, please have the following information ready:
3. Details of all the required repairs
Due to the demand for the Caravanning lifestyle created by COVID-19 and the desire for Aussies to travel in a Caravan, we are experiencing an exceptionally busy period for RV servicing. Whilst we have considerably increased our team and output to help meet the demand, our lead times remain extended. Please allow for this when making a booking with our team.
Alternatively, you may also wish to locate a Jayco Authorised Service Agent closer to you, click here to find your nearest agent. We appreciate your patience and understanding.
---
RV Service Centre
Mon-Fri:

8:30-5:00pm

Sat:

Closed

Sun:

Closed