ITINERARY 1 - SUNSHINE COAST CRUISING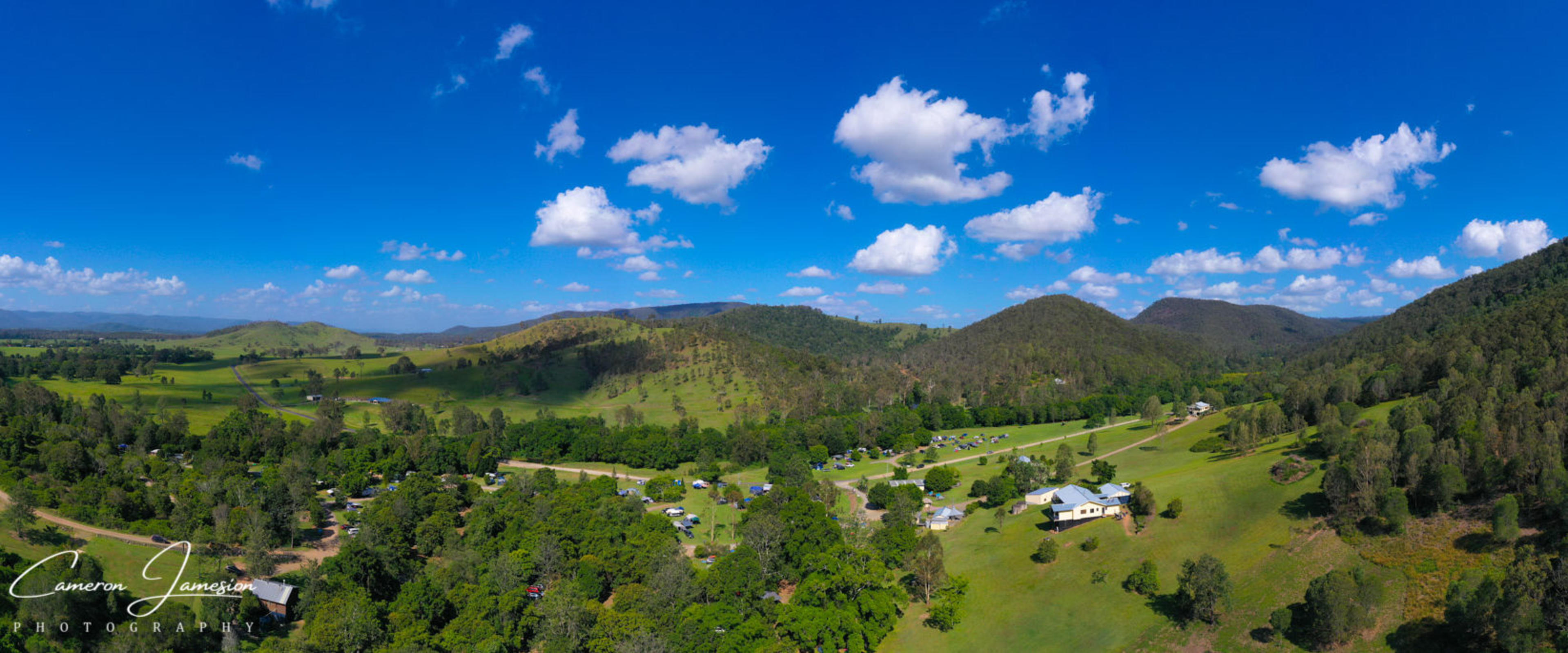 While you may be well-acquainted with the white sandy beaches of the Gold Coast, heading inland to the hinterland unlocks a dense rainforest landscape just as worthy of exploring — welcome to the Scenic Rim.
Starting from Brisbane, head north-west via Mount Samson Road towards Dayboro before winding your way through the scenic eucalypt-lined roads up Mount Mee and back down the other side. Your weekend adventure will really begin once you start cruising your way down Delaney Creek Road and into D'Aguilar National Park as you reach your first destination on the banks of Neurum Creek. The following day, make your way through Woodford and further north as you drive through the dense rainforest Conondale and Imbil State Forest to reach the quaint country town of Kenilworth. Once you've gotten your fill of hinterland holidaying, head due east to the beautiful beaches of the Sunshine Coast to finish off your long weekend in Maroochydore.
Total Driving Time: 3 hours and 35 minutes
Total Distance: 226 kilometres
On your way out to D'Aguilar, stop in at Dayboro and explore all this quaint township has to offer.

Amp up your appreciation of local produce with a visit to Kenilworth Dairy Farm.

Don't miss the opportunities to try Mooloolaba prawns fresh off the trawler as you finish off your long weekend on the coast.
Day 1 — D'Aguilar & Mt Mee
Heading off bright and early from Brisbane, pack your camper and make your way towards your first stop for the weekend, Dayboro. Just one hour from Brisbane CBD, this quaint township is definitely a worthy stop on any road trip. Fuel the rest of your day with a coffee from The Old Storehouse. Sure to set the tone for the rest of Day 1, this sure-fire favourite is overflowing with locally-made produce and home-crafted goods. While waiting for the caffeine to kick in, take a walk around the Dayboro Art Gallery and the local art displayed there before you jumping back on the road.
As you leave Dayboro, wind your way up Mount Mee Road. Our Jayco RVs make roads like this a piece of cake. No matter how tight the bend, even our larger caravans like the Expanda or Toy Hauler will tow with ease and handle like a much smaller RV thanks to JTECH 2.0 suspension. Without worrying about how your caravan will cope with the windy road, you can relax and enjoy the breathtaking views over Samford Valley. To really appreciate the scenery, stop in at Pitstop Cafe for lunch. With 270-degree views and quirky memorabilia, this is one pitstop you won't forget in a hurry. Once you reach Mt Mee, follow Sellin Road down to the entrance of the National Park. The best way to soak in the serenity is with a bushwalk, and luckily Mt Mee has options for everyone. If you're up for a light stroll, the Piccabeen Trail is perfect, with the circuit extending for approximately one kilometre.
Make the most of your Jayco's expert off-road handling and book in at Neurum Creek Bush Retreat for the night, located just 30-minutes from Mt Mee off an unsealed road. Situated right on the bank of the picturesque Neurum Creek, Neurum Creek Bush Retreat is privately owned and offers a range of unpowered tailored to all sized camera, caravans and motorhomes. All sites are flat with plenty of shade, and full amenities are available close by. Settle in for the night and toast up a few marshmallows on an open fire. Don't forget to look up too — the lack of light pollution out in D'Agular National Park means you'll see your fair share of shooting stars.
Before heading off from Neurum Creek, capitalise on the creekside location with a morning swim right by your campsite. Continue your exploration of the Sunshine Coast Hinterland and make your way further north towards Woodford and along Kilcoy Beerwah Road. Along your route, you'll pass through the stunning surrounds of Bellthorpe National Park and Conondale National Park, so wind your windows down, turn off the radio and soak in the fresh air and sweet sounds of birds chirping in the trees above. Once you reach Cambroon, be sure to stop in and check out the one-kilometre Fig Tree Walk at Little Yabba Creek. Park at the Fig Tree Walk car park and start your stroll along the boardwalk. Along the way, you'll catch plenty of huge Moreton Bay fig trees, some over a century old. Also, keep your eyes peeled for colourful wompoo fruit doves, who you'll recognise by their onomatopoeic call ('womp-poo'). Just four kilometres further down the road past Little Yabba Creek, you'll come across the gorgeous town of Kenilworth.
After working up an appetite from your walk, Poppa's Cafe at Kenilworth Dairy Farm makes the perfect stop for lunch. While you're there, make sure to pick up some award-winning cheese and icecreams from the factory shop, produced right on-site at Kenilworth Dairy Farm. If you're still peckish (or have a bottomless stomach), Kenilworth Famous Country Bakery is home to the best doughnuts around. Take on their 1kg jam doughnut challenge if you dare! After exploring Kenilworth, make the most of the unlimited itinerary that comes with your camper or caravan and head off the beaten track again. Kenilworth Camping on the River offers some of the most pristine sites in the region. The large, grassy sites are unpowered which is no dramas for Jayco RV's as they're perfectly equipped for extended travel with no need for access to amenities. Once you're setup, spend your afternoon relaxing by the creek. Head for a walk up and down the creek and try your luck at spotting a platypus. Mary River has quite a healthy population of them, although they are very shy, so dusk and dawn are your best bet.
To wrap up a stellar long weekend, head back each to the coast to soak up some of that glorious Sunshine Coast shoreline. From Kenilworth Camping on the river, there are two routes you can take, both taking around 40 minutes. One route will take you back south, through Mapleton and Nambour, while the alternate route will see you drive through the gorgeous township of Eumundi before making your way south along the highway. Both options have their perks, so we'll leave it up to you to decide which direction you head as you journey towards the coast. That said, we do recommend getting an early start to make the most of your final day. Once you've hit the coastline, make the most of the morning and spend a few hours relaxing on the sand at Mooloolaba. Voted the sixth-best beach in Australia by TripAdvisor, the crystal clear water will be calling your name. There's plenty of parking suitable for a caravan close by to the beach, although it is quite a popular spot throughout the summer months, so you may have to pull up a few streets back. After lazing around in the morning sun and soaking up the sunshine, head to Mooloolaba Fish Market for lunch — don't miss the opportunity to try local Moolalaba prawns fresh of the trawler. After lunch, check in to Rivershore Caravan Park in Diddillibah, right next to a beautiful little section of the Maroochy River called Petrie Creek. At Rivershore, you'll find plenty of extra-large sites available with well-equipped amenities and a camp kitchen. This one is ideal for families too with a tonne of fun activities for the kids, including water slides a playground and mini-golf. Settle in for your final night and dine at the on-site restaurant, Driftwood, as you toast to the perfect long weekend adventure on the Sunshine Coast.
Want to explore more of your backyard? Check out our range of Jayco campers and campervans — equipped for all your adventures.