LAMB SHANKS IN RICH TOMATO SAUCE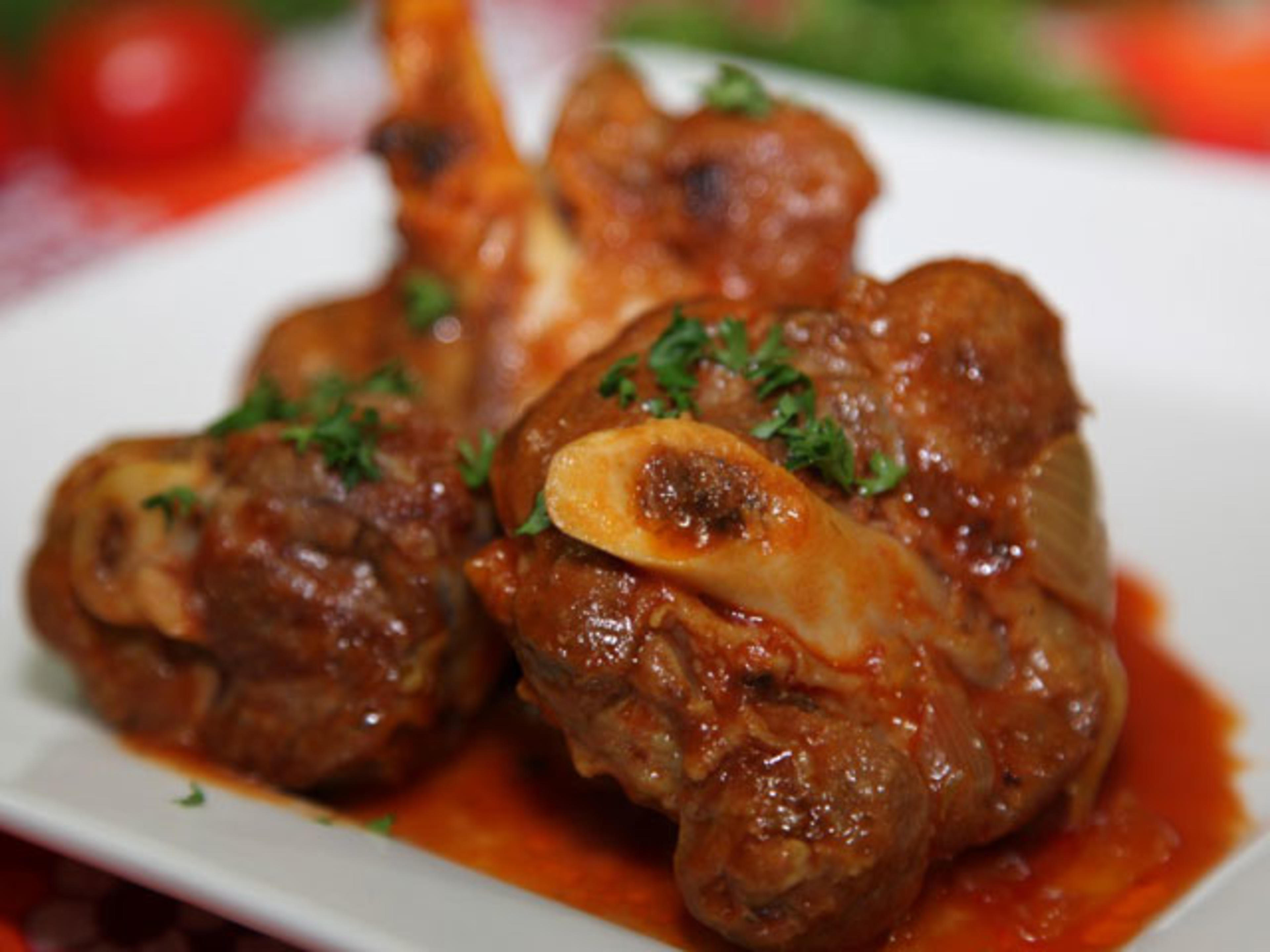 Go out and explore the country while dinner cooks for you back at ground zero.
Boiling time on stove: 15 minutesCooking time in the DreamPot: 5 hours minimumCook in the:✓ 3 litre* DreamPot✓ 5 litre DreamPot✓ 6 litre DreamPot
4 lamb shanks (each cut into 3 or 4 pieces by the butcher) approx 1 ½ kgs4 tblsp plain flour (seasoned with salt & pepper)4 tblsp oil2 cloves garlic (crushed & diced)2 onions (diced)2 tsp curry powder2 x 400g tins peeled tomatoes or 800g tin tomato juice3 tblsp tomato paste1 tsp salt1 pinch dried mixed herbs2 cups hot watersalt and pepper4 tblsp cornflour2 tblsp sugar
Dust the shanks with seasoned flour.

Brown the shanks in hot oil in a non-stick frying pan on the stove. Set aside.

Saute the garlic and onion in a little hot oil in the large inner pot. Ensure the heat is not too high so that the garlic does not burn. Stir continually.

Mix the curry powder into the garlic and onion.

Add the tomatoes with liquid, tomato paste, salt, mixed herbs and hot water.

Bring to the boil, stirring continually.

Add the lamb shanks. Stir. Cover with the stainless steel lid and bring back to the boil, again stirring intermittently.

Adjust heat to maintain a continual gentle boil for 15 minutes, checking and stirring occasionally.

Transfer into the DreamPot for the minimum cooking time.

Prior to serving, thicken the liquid and adjust the seasoning to taste with salt and pepper. To thicken, remove the lamb shanks from the inner pot. Place the inner pot back onto the stove and bring back to the boil, stirring. Add the cornflour (mixed with a little water to make a pourable paste). Continue to stir until thickened. Then add the sugar and extra salt and pepper to taste.

Return the lamb shanks to the sauce. Bring back to the boil, serve and enjoy.
*Recipe courtesy of Dream Pot