PACKING CHECKLIST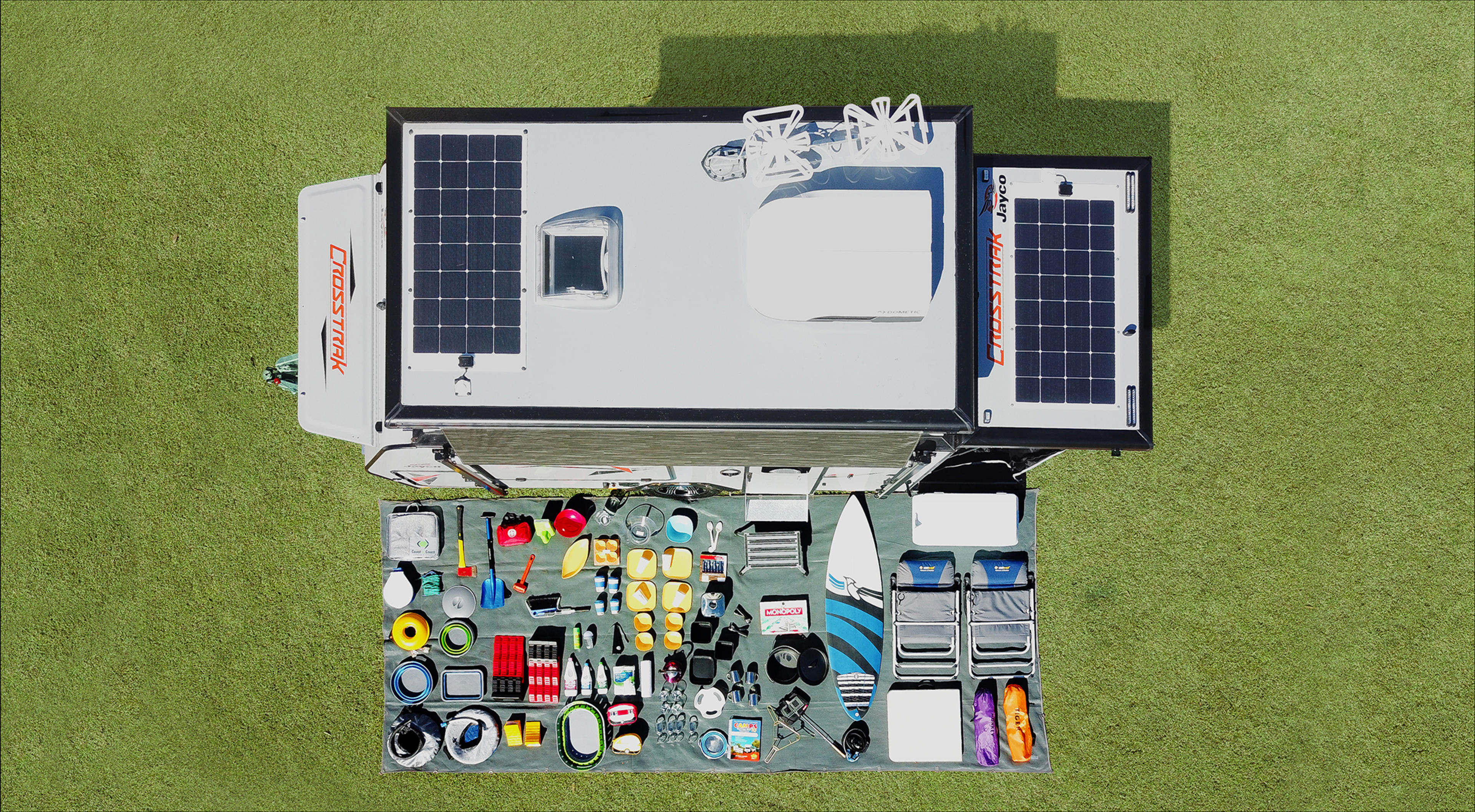 Everyone's travel style is different so it definitely pays to be organised and prepared for anything when you're travelling especially if you plan on hitting the dirt and going off road. While all the items on the list may be required at different times, this list has been prepared as a check list and guide only. The type and duration of your trip will determine what you are packing for your next adventure.
- Kitchen - Vehicle repairs and general maintenance (tools)
- Clothing - Spares for your tow vehicle
- Incidentals - Outdoor Accessories
- Extras - Outback Equipment
- Elect Spares - Communications equipment
- Tyre Repairs - Accessories for extended travel
- Maintenance - Packing for Off-Road
- Cutlery Set - Unbreakable Dinner Set
- Saucepan(s) - Fry Pan/Griller
- Egg Flip - Kitchen Knives
- Tea Towels - Can / Bottle Opener
- Vege Peeler - Bottle Opener
- Can Opener - Dishcloths, Steel Wool & dishwashing liquid
- Dish drainer - Cooking Stand / BBQ Plate / Camp Oven
- Toasting Fork - Paper Towel Roll(s)
- Tongs (long) - Whistling Kettle Non slip matting
Of course you will modify your clothing to suit your trip
- Jumper - Towels Bath/Beach
- Fly Net - Walking Shoes, Work Boots or Desert Boots
- Sandshoes - Rubber Boots – for wet conditions
Even if you decide to follow the sun in your travels it is still highly recommended to pack warm clothing. Even in the warmest parts of the country you can be hot during the day in t-shirt & shorts only to be freezing cold at night.
- Soap - Toothbrush and Paste
- Shaving Gear - Hair Comb, Brush, Mirror
- Hand sanitiser - Sunscreen
- RV Toilet Tissue - Face Washer and Towel – Baby wipes (very handy if there is a shortage of water)
- Shampoo and Cond - Cosmetics
- Camera & Waterproof Bag - Small Clothes Mending Kit
- Notebook and Pencil - Reliable Maps
- GPS / Compass - Umbrella
- Water Sterilizing Tablets - Driving Licence
- Radio Licence if applicable - Money, Cheque Book, Credit Card
- Insurance Docs - Binoculars (optional)
- Torch Batteries Globes - Permits to enter Aboriginal Reserves, National Parks SA etc (if applicable)
- Insect Repellant - Flexible lighter
- Washing Powder/liquid - Non slip matting
- Strahl medium tumblers - Scissors
- Rubbish Bags - Telescopic Broom with Pan
- Foldable Dish Drainer - Sunglasses x 2, Driving Glasses and Reading Glasses
Please consider the following items seriously. It is essential that extra care is taken when packing for towing a caravan or trailer over long distances especially in the outback and remote areas.
- Spare Elbow and Joiners for Air Suspension – if applicable
- Fuses – Assortment of blade and glass fuses of varying sizes
- Wheel Chocks – 2 minimum
- A tube of sealant – white and translucent
- RV levelling ramps to assist in levelling the van.
- Hose bags – small & large
- 240 v/15 amp power lead – 15 metres is the recommended length
- Spare LPG Regulator (optional)
- Spare 50 amp Anderson Plug
- Spare plumbing elbows, joiners and hose clamps
- Heavy Duty extension lead
- Spare headlight globes or quartz insert – depending on type fitted.
- Spare Taillight, Indicator Light Globes
- Roll Plastic Insulation Tape
- Heavy Duty Battery Jumper Leads (surge protected)
- Assorted Lengths 3mm and 4mm Insulated Wire
- Assorted Male and Female Terminals and Wire Joiners
- Spare Fuses for Ancillary Equipment (if required) – Fridge, Radio, etc
- Small Fault Finding Testing Light or small Multi-meter Test Instrument (optional)
- Spare Tyre fitted complete on wheel rim (2 spares for outback remote area trekking)
- Spare Tube (2 for long trip)
- Tyre Pump – either hand, foot or good quality 12V electric compressor
- Tyre Levers – 2 x 18″ ("Dawidat")
- Tyre Gauge O-60lbs (dial type preferable)
- Tyre Pliers / Bead Breaker
- Tyre Valve Inserts – 1⁄2 doz ("Schraber")
- Jack – Hydraulic or Mechanical, both if possible – 21⁄2 ton capacity or more
- Tyre Criss-Cross "Bead" Patches – various sizes, plus adhesive
- Wheel Brace – cross type preferable
- Extra set of wheel bearings
- Jacking Plate – approx. 300mm (12″) square x 20mm (3⁄4") thick – marine ply or similar strength
- Large Rubber Mallet for tyre fitting
8. Vehicle Repairs and General Maintenance (Tools)
- Ring / Open-end Spanners – 1 set
- Sockets and Drives – 1 set
- Screwdrivers – various sizes
- Engineers Pliers (8") and Side Cutting Pliers
- Adjustable Shifting Spanners – 6", 8", 10" 12" or larger
- Cold Chisel – medium size
- Soldering Iron – medium size (additional 12v electric for electrical repairs optional), plus solder and flux including Rosin Cored Solder.
- Adjustable Hacksaw and Spare Blades – 16 and 32 teeth per inch
- Can Dewatering Fluid/Lubricant (RP7, CRC or similar)
- Hand Drill (cordless) and supply of popular sizes of drill bits
- LPG Gas Torch and Nozzles (optional)
- Workshop Manual(s) or Handbook
Electrical Tape and Duct or Gaffer Tape (preferred) as it is a strong, tough, cotton cloth tape with strong adhesive qualities
9. Spares for your Tow Vehicle
A tow vehicle in tip top mechanical condition is the only way to travel and should be seen to before embarking on your trip.
Any spares that you require will depend entirely on a combination of factors including length of trip, terrain, condition and age of vehicle.
- Engine Belt, plus Belt(s) for Air Conditioner, Power Steering, etc. (if fitted)
- Radiator Hoses – complete set including bypass hose
- Spare length Reinforced Plastic Fuel Line
- Assorted Worm Drive Hose Clips – to suit above hoses
- Assorted Nuts, Bolts, Washers, etc
- Spring U Bolts and Nuts and Spring Centre Bolt if leaf sprung vehicle
- Exhaust Pipe Bracket(s) and Hanger Straps (optional)
- Various tubes of Araldite, Gasket Cement, Rubber Cement, Petrol Resistant Glue, Contact Adhesive Selastic Cement etc
- Assorted Seals and Gaskets
- Windscreen Washing Fluid
- Personal Medication (if travelling in remote areas have sufficient medication for duration)
- Comprehensive First Aid Kit and Instruction Book
- Skin Cream – for various bites, rashes, etc
- Burn Cream Sunburn Cream
- Band-Aids Headache Tablets/Powders
- Lip and Hand Moisturizing Cream
- Adventure First Aid Kit
- Comfortable Camp Chairs
- Fill LPG Cylinder's or Canisters for the trip
- Extra Rope, various lengths
The following items are essential when you are travelling in remote areas and very handy for the rest of your trip.
- Sand Tracks – one pair essential, two pairs ideal
- D Shackles – assorted sizes rated at least 2.5 t. S.W.L. type
- Winch (optional) – electric or hand operated, plus cable to suit, plus 2 spare shear pins for winch
- Snatch Block (optional) – with opening side catch. 30 cwt SWL
- Towing / Recovery Attachment front and rear of vehicle
- Bushmans Saw (optional) – Blade protection essential (plus spare blades)
- Chainsaw (optional) – plus fuel, oil, spare chain, tools, wedge
- Tree Protector Strap for protection of trees when winching
- Gloves – leather heave duty gardening type (for handling rough cables, etc)
- Pick – small miner's type (optional)
- Maps – comprehensive range for area being visited (e.g. Dept. National Mapping)
- GPS with Rastor250k maps and or Hema and Westprint maps loaded
- Land Anchor (optional) – or bury spare wheel
13. Communications Equipment
- HF Radio for remote area communication to VKS 737 Network or other
- UHF CB Radio for vehicle to vehicle communications
- Spot Tracker or EPIRB Emergency Beacon
14. Accessories for Extended Travel
- Honda Generator 12V or 240V
- Electric drill 12V or 240V
- Vice and or large "G" clamps
All items packed in the van will bounce.
All items packed in the van will rub.
If you have items that are breakable or easily damaged it is very important to separate each and every item. The best option would be to have minimal breakables and a good set of break resistant plates, cups, mugs and containers.
Storage jars with screw top lids are recommended but will need to be checked in transit as they can unscrew. Beware of snap on lids as they can work their way off particularly if the item next to them is bouncing around.
Select strong plastic bottles for cordial, disinfectant etc as they can split. Aluminium cans and cardboard cartons can wear through fairly quickly if they are rubbing against each other during transit.
Containers that have the potential to leak like washing up detergent and washing powder may be better placed into zip lock bags and stored upright.
Microwave ovens need special care when travelling off road, removing the turntable and packing it away somewhere safe is imperative.
If you have blinds it's a good idea to remove them, rolled up, and store them away while in transit.
For some peace of mind when storing eggs for a trip, simply placing a band around the carton will give a bit of extra security.
If you've just opened a fresh carton of milk you might want to pour it into a container with a screw top lid or simply clip the top of the carton if it's not too full.
Check that the refrigerator door is properly secured and then double check!
DO NOT PLACE HEAVY ITEMS IN THE DOOR – REMEMBER 1 LITRE OF DRINK WEIGHS 1 KILOGRAM.