SPECIAL OFFER FOR BRISBANE CAMPERLAND CUSTOMERS ONLY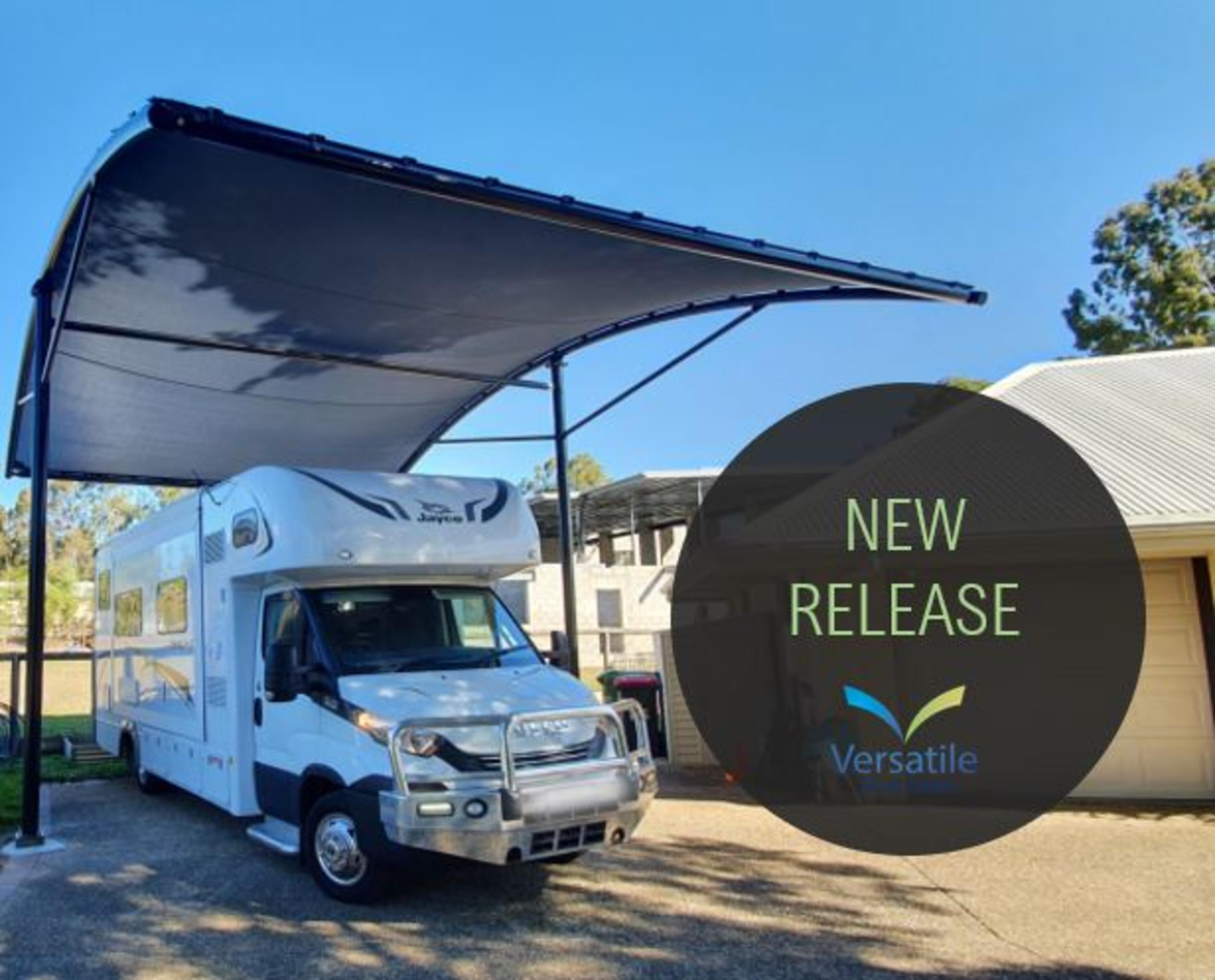 Protecting Your Investment
FROM VERSATILE STRUCTURES
When the Birnies decide to do something, they like to do it well and get the right thing for the job.
And based on their recent experience to find a reputable motor home shade supplier, Lyn Birnie offered to share their story to save others the hassle they went through.
After purchasing their new Jayco motorhome, they started down the path of following their brother in law's advice to protect their investment in between trips. His being an engineer who had owned a motor home for 15 years and had a lifetime of experience with working on vehicles, they knew his advice mattered.
They had a clear vision of the type of cover they needed. Their property is on an acreage and in a hail zone so they wanted to ensure their investment was protected from the harsh elements when they were not on one of their adventures. Their wish list also included a cantilever structure, made of a durable substrate (not a sun sail) that will withstand all weather conditions including high winds and hail, is highly functional, offers maximum coverage, has great aesthetic flair and also ensures there is adequate clearance to limit the chance of accidental bumps while being parked. We agree this is not a small order.
But little did they realise how challenging it would be to find a supplier who could give them exactly what they were after. In Lyn's words "it turned into a long, drawn-out problem, the shed suppliers told me it couldn't be done and we had to have one of their standard designs. The cantilever suppliers kept referring me from one supplier to the next".
They were about to settle for a standard metal structure a materials supplier suggested they give Versatile Structures a call. Lyn said "Versatile Structures were great, right from the first call. Dave, from their Sales Team, was here the next day to measure and quote. He understood what we wanted and provided an excellent reference in Josh, Manager of Brisbane Camperland.
Josh had used Versatile Structures skill to design and install the shade structure on his premises. We'd already seen and admired these structures – they were just what we wanted!".
The rest is history – Versatile Structures met and exceeded all the Birnie's requirements. They custom-designed and built the ideal cover constructed from Monotec 370, a high-strength substrate for ultimate hail protection, with fixed edges to all sides for maximum footprint coverage and high durability powder coat system to all steelwork. They also took care of the engineering and council building approvals. The Birnies are very pleased with the result and Lyn commented: "It's clear why Versatile Structures is winning awards. Their end-to-end customer service is amazing, and Dave even followed up with me during construction and afterwards to see if I was happy".
Versatile Structures is offering Brisbane Camperland customers 5% OFF a shade cover build. Quote 'Brisbane Camperland' when you enquire.
For a free quote call Dave on M 0478 095 970 or Zach on M 0468 489 525